BUILD YOUR OWN CUSTOM KARMA HYDRATION KIT
Mix and match your favorite Karma flavors to build a personalized kit with a 4-week supply of Karma PushCaps. Save time and energy with the convenience of online ordering and delivery.
Customize Your Kit
Get Healthy Hydration Your Way
Customize your order by choosing from our favorite functional flavors from our Probiotic, Wellness or CBD product lines. Each kit comes with 4 weeks of PushCaps, don't forget to add your reusable Karma bottle to your first order!.
Over 48,000 single-use bottles have been saved by Karma customers ordering PushCaps to go with their Reusable Karma Bottle!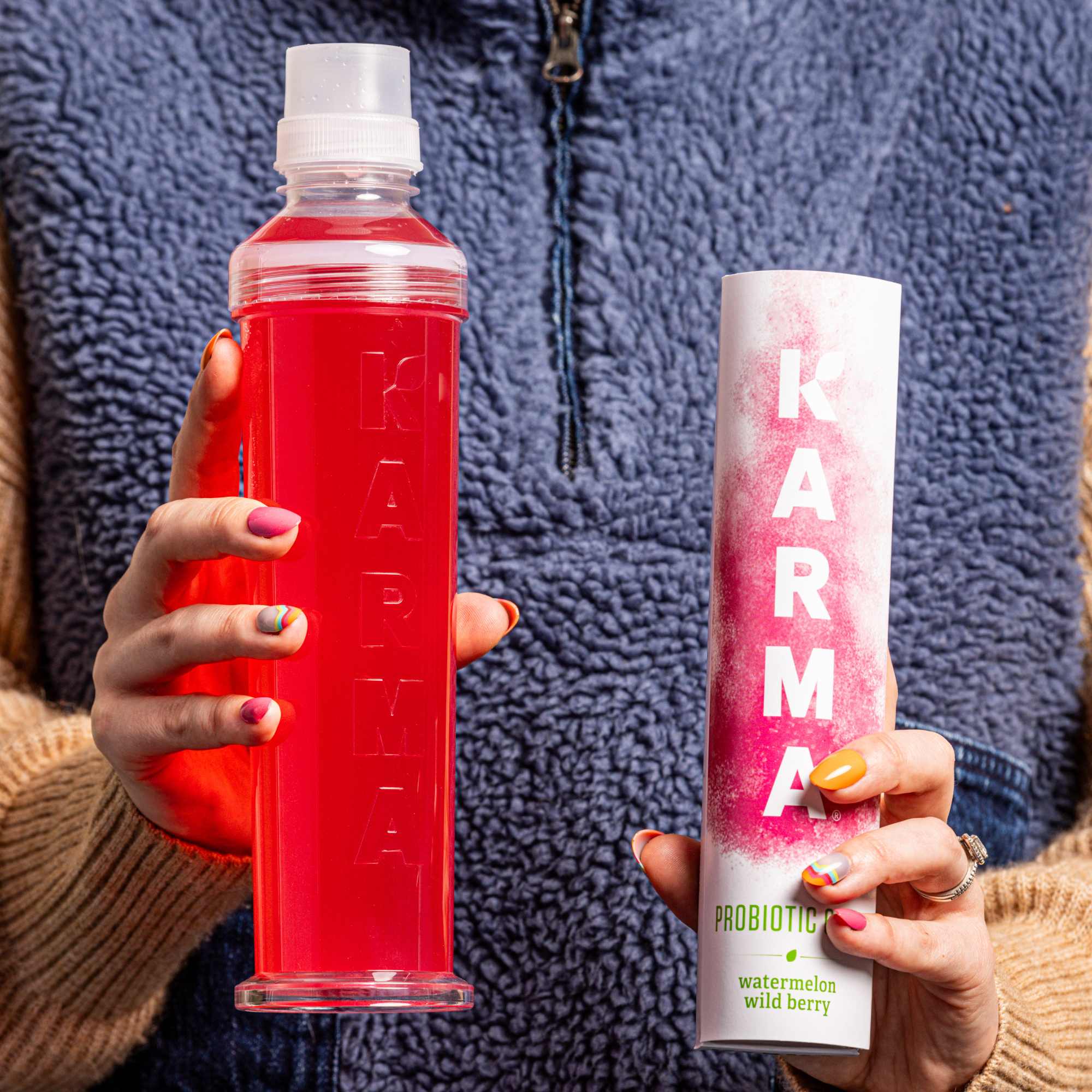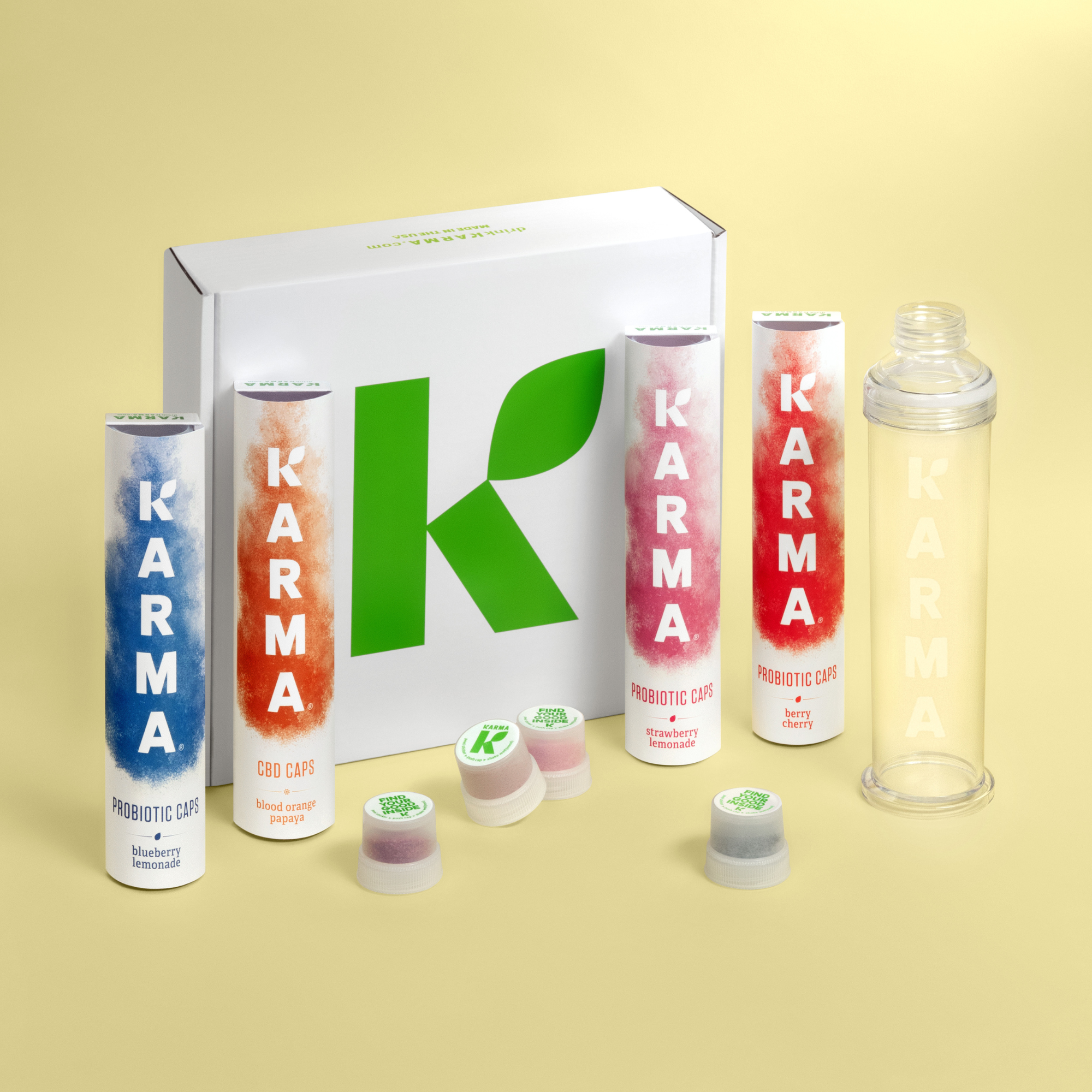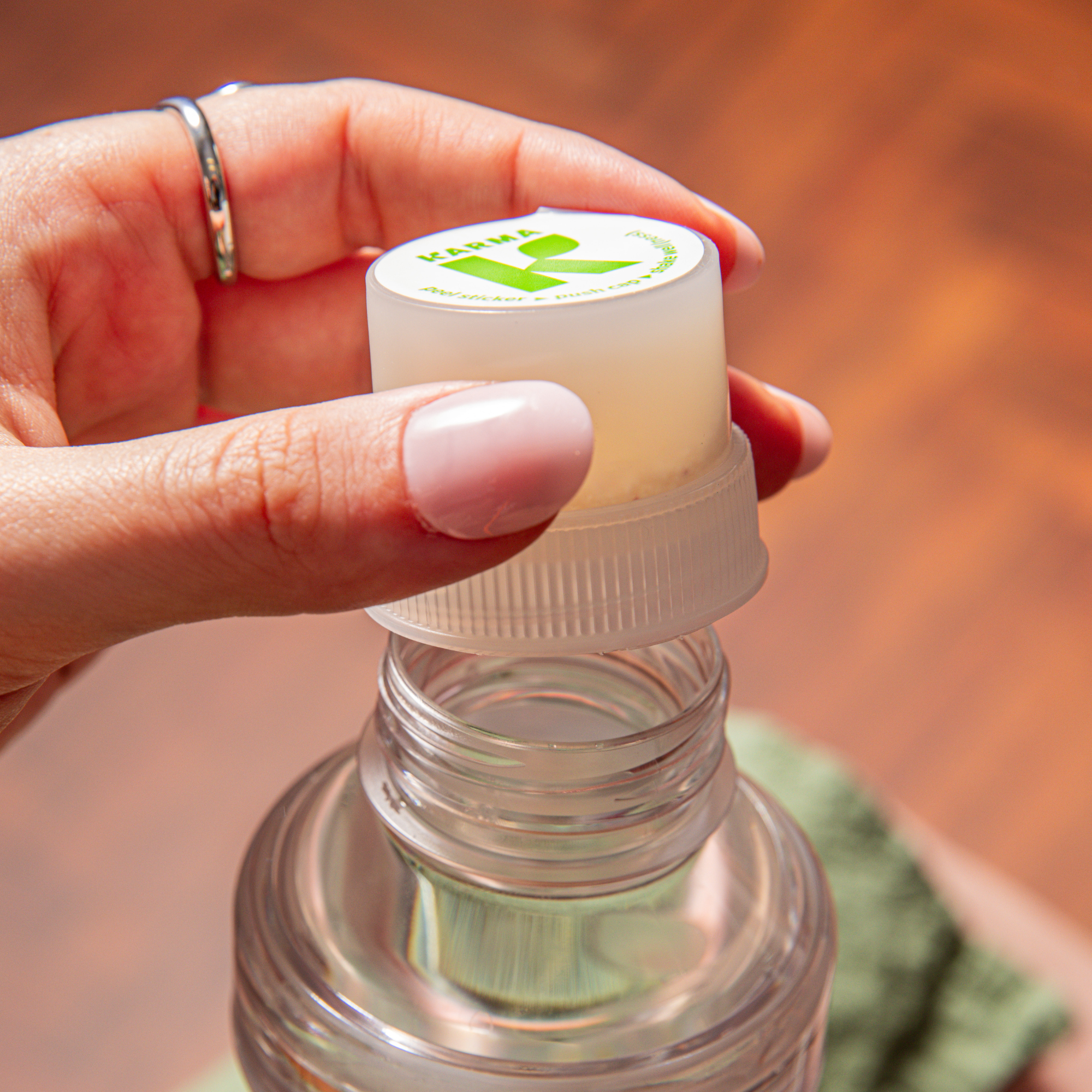 Subscribe here to start your monthly delivery of Karma dropped at your door! You decide how often you want to receive your refill kit. You can even switch up your flavors and try other Karma best sellers. Ultimate flexibility, convenience, and the confidence that what you want is what you get!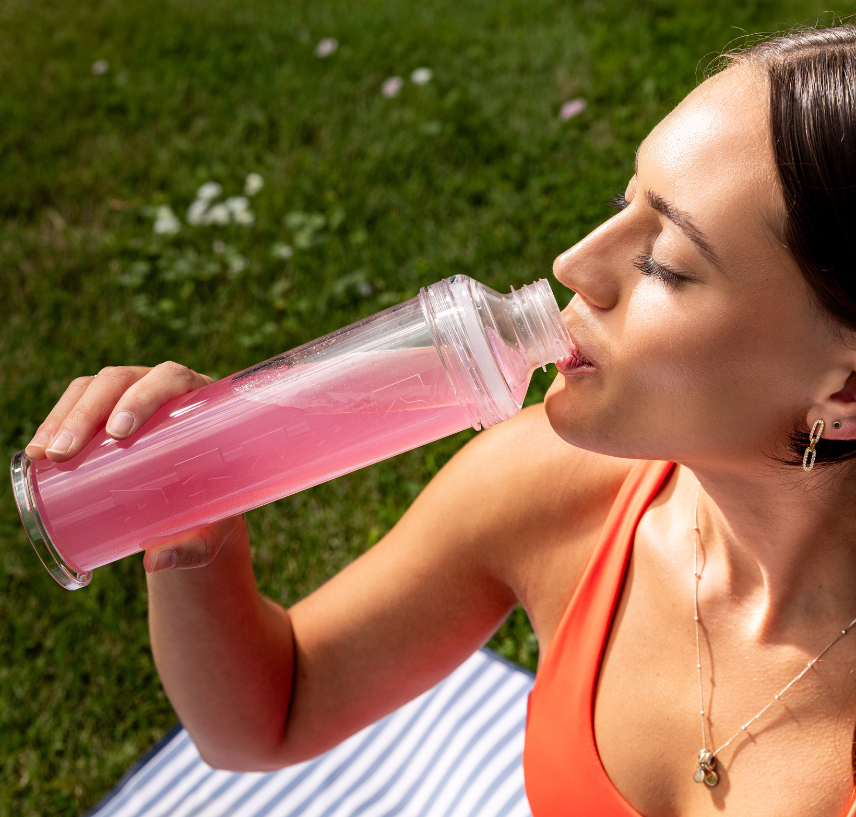 Probiotic Water
Digestive Health & Immune Support.
Probiotics support your gut health, enhance nutrient absorption and effectively support your immune system. Maintain a healthy balance in your body with Karma Probiotic Water.
Wellness Water
Healthy Hydration & Immune Support.
Karma Wellness is meticulously formulated with antioxidants and superfruits gathered from around the globe and delivers 6x the active ingredients than premixed vitamin waters.
CBD Water
Holistic Health & Immune Support.
Karma's patented, protective Push Cap guarantees that our proprietary blend of Broad-Spectrum CBD distillate, adaptogens, and essential vitamins is delivered at peak potency.
A Convenient Way to Do Something Positive For Yourself - Save Time, Energy, and Money!
Signing up has no downside! Subscribe today and enjoy these benefits
Customize Your Kit
Choose the type of Karma Water that suits you - Probiotic, Wellness, or CBD. You can even mix and match your favorite functions and flavors in your kit.
Flexible Scheduling
Is one Karma Water a day just not enough for you? Choose to have yourrefills shipped every week or every two weeks instead of monthly
No Surprises
We'll always let you know when good Karma is coming your way! You'll receivean email a few days before we process your order so you can confirm your flavors,reschedule, or skip your refill.
Let customers speak for us
Subscription FAQs
How can I sign-up for a recurring subscription?

To sign up for a recurring subscription, simply choose the frequency you prefer (2, 4, or 6 weeks) when purchasing your initial Karma Hydration Starter Kit. During the checkout process, you will need to provide your email, name, address, payment method, and other necessary information. Once you complete your order, your recurring subscription will be registered in our system.

It's important to note that while you
have a subscription, login credentials will not be automatically created. To
manage your subscription, you will need to visit the Account Log In page and enter your email. You
will receive a 4-digit code to access your account, view your existing
subscription, and make changes as needed.

From your account dashboard, you'll be able to customize each subscription order, purchase additional Karma reusable bottles, manage your order dates, delay an order, change your order frequency, update your payment method and addresses, and deactivate your subscription at any time.
Do I need to purchase a reusable Karma Hydration Kit bottle with my first order?

Yes, you will need to purchase a reusable Karma Hydration Kit bottle with your first order. Our patented push cap is designed to work exclusively with the reusable Karma bottle, so it's essential that you have one to use with our water push caps. During the checkout process, you will be prompted to add the reusable bottle to your order after you have selected your four flavors of cap sleeves and proceed to the next screen. This will ensure that you have everything you need to start using your Karma push caps right away!
My reusable bottle leaks sometimes when I shake it, what should I do?

If your bottle is leaking when you shake it, it could be because water has gotten onto the threads of the bottle. To prevent this, make sure the threads on the bottle and cap are completely dry before filling the bottle with water. Additionally, make sure the cap is securely fastened to the bottle before shaking to prevent any leaks. If you continue to experience issues with leaking, please contact our customer service team for further assistance.
Once I have a subscription, can I change the flavors that come in a kit?

If you have a subscription, you can modify the Karma flavors in your kit up to one week before your scheduled shipment. To do so, simply log into your account by clicking here, and review and change the flavors for your next order. This will ensure that you receive the flavors you want in your upcoming shipment. Please note that changes made within one week of your scheduled shipment will not take effect until your following shipment
Can I skip a scheduled shipment?

Yes, you can skip a scheduled shipment at any time by accessing your account and selecting "Manage Subscriptions" to manage your upcoming orders. From there, you can easily skip a shipment and adjust your subscription as needed. Please note that you must make any changes to your subscription at least one week prior to your scheduled shipment to ensure that your changes take effect in a timely manner.
Can I change the frequency in which my subscription is delivered?

Yes. Log into your account. Select Manage Subscriptions to revise the frequency of your shipment. You may revise your subscription frequency up to 1 week prior to your next scheduled delivery.
Will Karma notify me when a shipment has been or will be sent?

Yes, Karma will notify you via email when your shipment has been sent from our fulfillment center. Typically, orders are shipped within three business days of purchase, and you will receive an email notification when your shipment has been sent. Once you receive the notification, your shipment will arrive within 4-6 days, depending on your location. Additionally, you can track all of your shipments on your account page for added convenience.
Do you ship internationally?

At this time, we only ship within the contiguous United States.
Does Karma offer any exclusive perks when I sign-up for a subscription?

As a Hydration Kit subscriber, you will receive a 10% discount on your refill kits. Additionally, you will be the first to know about new flavor offerings and product updates. From time to time, we will also email you exclusive offers, not available to our non-subscription customers.
What payment methods are accepted?

Visa, MasterCard, Discover, American Express, and Apple Pay.
What is your refund policy?

Because each Karma box is made to order, we do not accept returns on orders that have already left our fulfillment center, and we do not issue refunds if you change your mind prior to receiving your box.However, if you're not happy with your first box of Karma and want to return it, just reach out to info@drinkkarma.com within 28 days of receipt and we'll make things right. Depending on the circumstances, we may, at our sole discretion, issue a full or partial refund, offer store credit or an alternative product in exchange, or replace the product at our expense. We may ask you to provide photographs or other supporting evidence before we provide a refund, exchange or replacement.
How do I update my payment information?

You can update your payment information here. Just log into your account to review and update your payment information as necessary.
Is my information safe when I sign-up for a subscription?

Rest assured that your information remains secure when making your online Karma purchases.  Your information is handled and stored by a secure payment processor who ensures that your info remains encrypted at all stages of the transaction process.
Can I give the Karma Hydration Kit as a gift?

We do not have a specific gift card program at this time, but you can certainly purchase a one-time Karma Hydration Kit and have it shipped directly to a friend or family member as a gift. We believe it's good Karma to send Karma!
Does Karma offer gift cards?
Question not answered? Check out our product-specific FAQs!